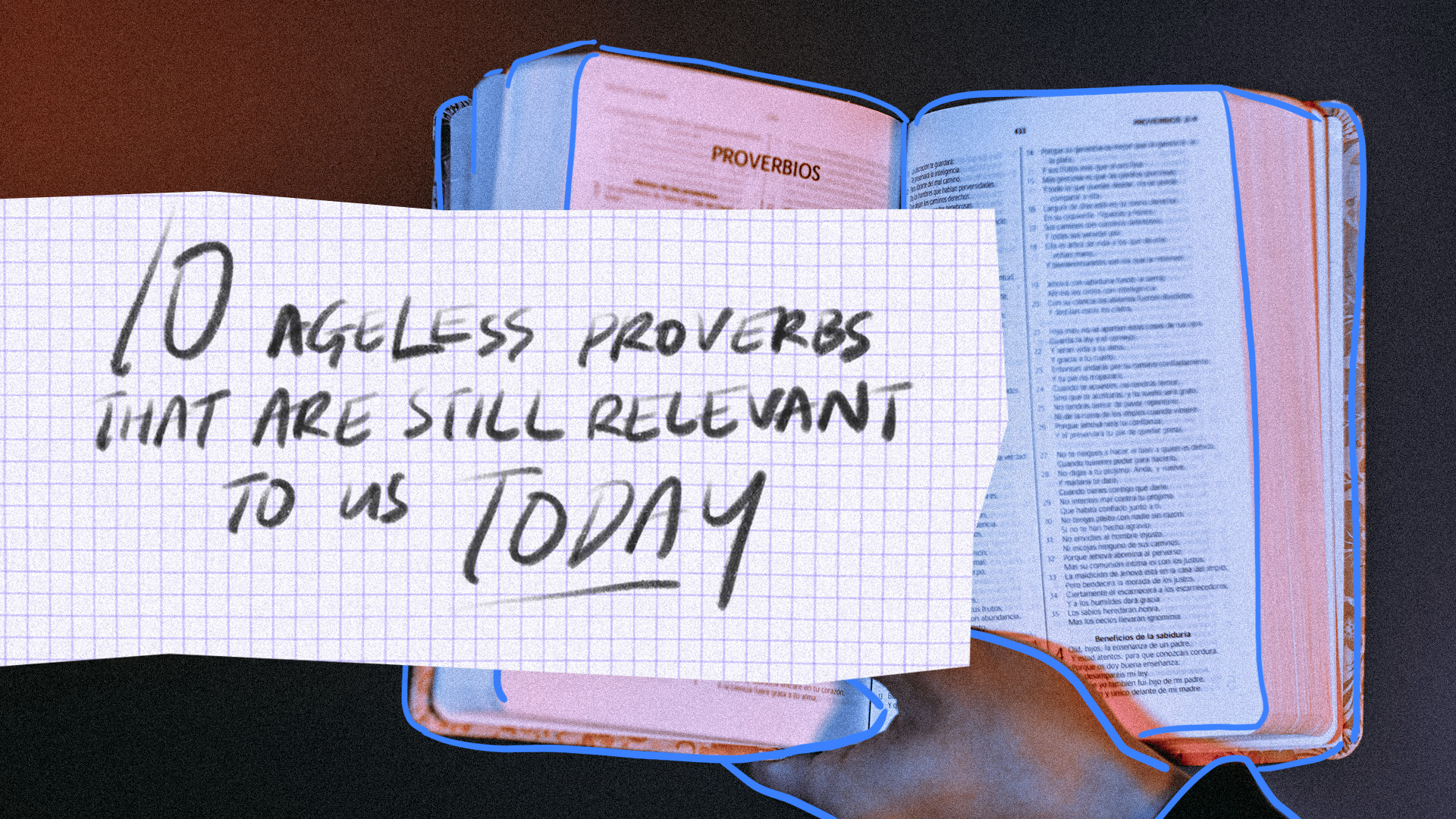 10 ageless proverbs that are still relevant to us today
We belong to a generation that often bemoans the lack of mentors in our lives. We struggle to find the right handles when it comes to adulting, and we often wish there was someone or something that could provide a clearer guide for how to live.
Today we'll bring you to an ageless source of advice from the book of Proverbs and share with you 10 ways these words of wisdom are still relevant for daily life.
"Stick with wisdom and she will stick to you, protecting you throughout your days. She will rescue all those who passionately listen to her voice. Wisdom is the most valuable commodity—so buy it! Revelation knowledge is what you need—so invest in it!" Proverbs 4:6-7 TPT
1. On the health of your soul
"When your soul is full, you turn down even the sweetest honey. But when your soul is starving, every bitter thing becomes sweet." Proverbs 27:7 TPT
When your soul is starved for love, affection or attention, anything will fill that gap. But when you're well-rested and you know you're loved by the Lord; lesser things will no longer seem as attractive because you don't need them.
2. On being true to yourself
"Just be who you are and work hard for a living, for that's better than pretending to be important and starving to death." Proverbs 12:9 TPT
In an Instagram generation, we only see the filtered version of everyone else's life. But the Word reminds us that it's more important to be authentic and be able to live freely being who God has called us to be, rather than trying to live up to the impossible curation of the "perfect life".
3. On being a trustworthy friend
"People who shrug off deliberate deceptions, saying, "I didn't mean it, I was only joking," are worse than careless campers who walk away from smoldering campfires." Proverbs 26:18-19 MSG
Reputation can take a lifetime to build, and only a moment to destroy beyond repair. Who you are is more important than what you do, so heed the advice of Proverbs 22:1 (TPT): "A beautiful reputation is more to be desired than great riches, and to be esteemed by others is more honorable than to own immense investments."
4. On not being easily offended
"A fool is in love with his own opinion, but wisdom means being teachable. If you shrug off an insult and refuse to take offense, you demonstrate discretion indeed. But the fool has a short fuse and will immediately let you know when he's offended." Proverbs 12:15-16 TPT
Learn how to pick your battles and know that not every fight is worth fighting. Don't go down to the level of those who can't hold their tongue. Other proverbs we like on this subject:
"Respond gently when you are confronted and you'll defuse the rage of another. Responding with sharp, cutting words will only make it worse. Don't you know that being angry can ruin the testimony of even the wisest of men?" Proverbs 15:1 TPT
"Can you bridle your tongue when your heart is under pressure? That's how you show that you are wise. An understanding heart keeps you cool, calm, and collected, no matter what you're facing. When even a fool bites his tongue he's considered wise. So shut your mouth when you are provoked— it will make you look smart." Proverbs 17:27-28 TPT
5. On being able to receive feedback well
"The heart of the wise will easily accept instruction. But those who do all the talking are too busy to listen and learn. They'll just keep stumbling ahead into the mess they created." Proverbs 10:8 TPT 
Part of growing up is realizing that we aren't right all the time and learning to take a position of humility. Being able to say the words: "I was wrong" (or at least, not completely right) prevents us from ending up in this situation: "Your boast becomes a prophecy of a future failure. The higher you lift up yourself in pride, the harder you'll fall in disgrace." Proverbs 16:18 TPT
6. On procrastination
"Professional work habits prevent poverty from becoming your permanent business partner. And: If you put off until tomorrow the work you could do today, tomorrow never seems to come." Proverbs 24:33-34 TPT 
There are countless memes out there that celebrate the procrastinator. But quoting Navy admiral William McRaven—"If you want to change the world, start off by making your bed… If you make your bed every morning, you will have accomplished the first task of the day. It will give you a small sense of pride, and it will encourage you to do another task and another and another. And by the end of the day, that one task completed, will have turned into many tasks completed. Making your bed will also reinforce the fact that the little things in life matter. If you can't do the little things right, you'll never be able to do the big things right. And if by chance you have a miserable day, you will come home to a bed that is made, that you made. And a made bed gives you encouragement that tomorrow will be better."
7. On hustling/building your career 
"Go ahead, build your career and give yourself to your work. But if you put me first, you'll see your family built up!" Proverbso24:27 TPT
The Bible doesn't put down hard work, but it does remind us that even as we put our hands to the plough, when we prioritize the Lord in our lives, He'll build something even more important than just a successful career­—the well-being and health of our family.
8. On pursuing riches/money
"It's much better to have a kind, loving family, even with little, than to have great wealth with nothing but hatred and strife all around you." Proverbs 15:17 TPT
Yes, our generation might have one of the highest amounts of debt in the country, and it's natural to want to believe the lie that money will solve many of our problems. But here's a friendly reminder that all the money in the world cannot buy you a good night's sleep, peace in your household or rest in your heart. So, pursue the Giver, and not just the gift.
Another pro-tip from Proverbs when it comes to managing money? "Why would you withhold payment on your debt when you have the ability to pay? Just do it!" Proverbs 3:27 TPT
9. On parenting
"Train up a child in the way he should go [teaching him to seek God's wisdom and will for his abilities and talents], even when he is old he will not depart from it." Proverbs 22:6 AMP 
They say when you become a parent, you are finally a real real adult. If you thought you were an adult before, having a child puts you into a new realm of steep learning curves and "I don't knows" because the truth is, how does one successfully raise a young human being? Is there a guide for these things?!
Solomon makes it plain, above all the things you can teach a child—potty-training, how to dress themselves etc. (not saying these things are not important), the best way you can teach your children is to give them a taste of the Lord and His Word even at a young age. That is something they will not forget even when they're older.
10. On how to be a person of influence
"Use patience and kindness when you want to persuade leaders and watch them change their minds right in front of you. For your gentle wisdom will quell the strongest resistance." Proverbs 25:15 TPT
The world seems to celebrate those who know how to assertively and aggressively hustle. But there's a wisdom in knowing how to entreat and demure those in positions of influence with a calm and gentle spirit.
Get our latest content and freebies straight to your inbox!