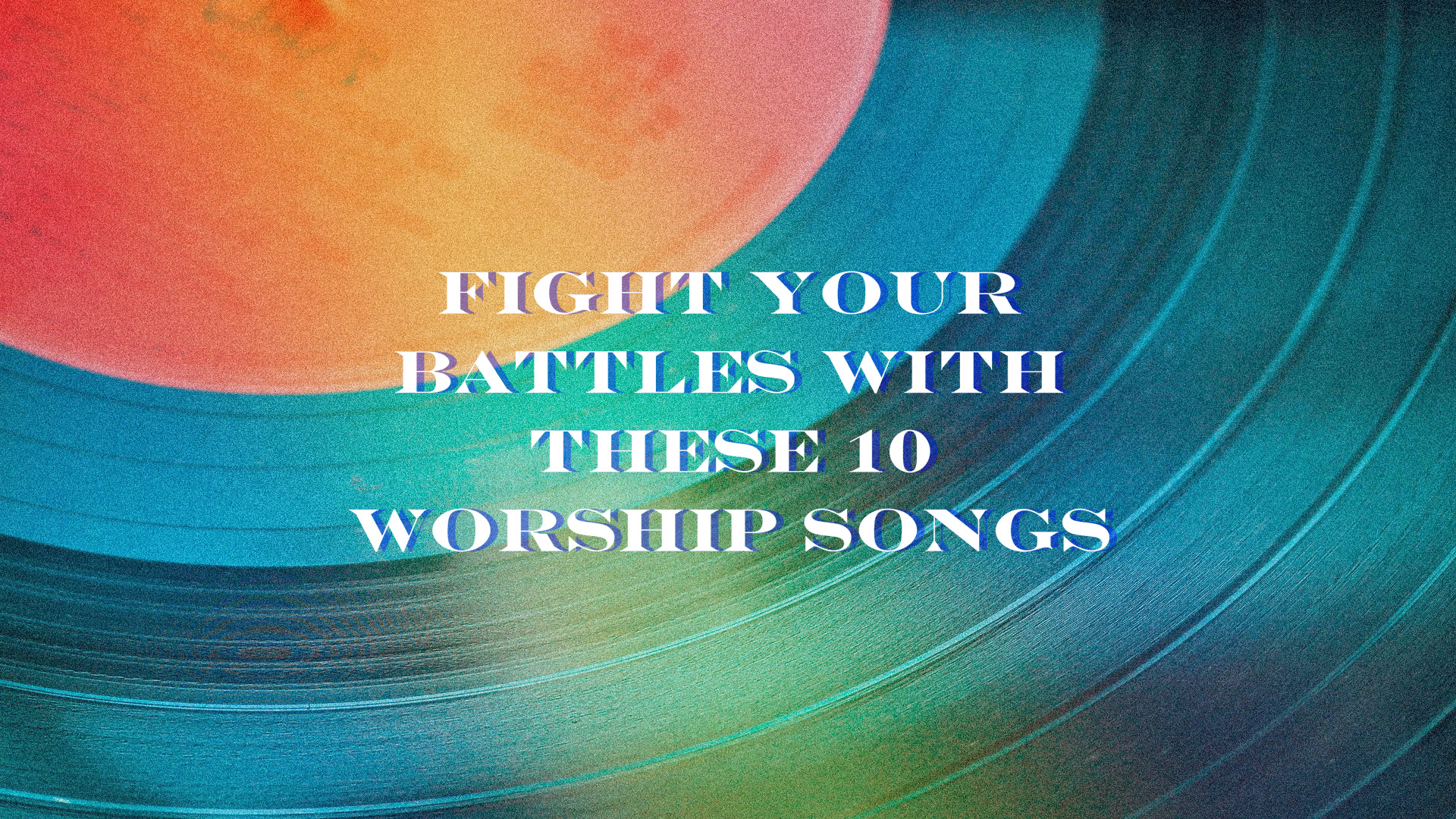 Fight your battles with these 10 worship songs
When fear grips your heart, and hope seems distant, where do you run to?
Oftentimes, the devil tries to steal your peace and joy when troubles arise by filling your mind with worries and anxieties, but did you know—God has given you a mighty weapon that can cause strongholds to come crashing down! And that weapon is the melody that He's put in your mouth.
Just like how David sang psalms and hymns to the Lord in the midst of his battles, you too, can choose to lift up a song or cry to Jesus, who is right there with you in your valley of trouble. Friend, the best thing to do when you're worn out and beaten down by the storms of life is to run to Jesus!
"I lift up my eyes to the mountains – where does my help come from? My help comes from the Lord, the Maker of heaven and earth." (Ps. 121:1-2 NIV)
There, in that position of surrender, Jesus has the power to release His anointing into your situation. In the midst of your trouble, worship is your weapon that tells Him, "Lord, I cannot, but I know You can."
Here are 10 worship songs for those seasons where you can only find true solace in Jesus alone. Let the lyrics sink deep into your spirit, and take root in your mind. As you take time to tune out the distractions and tune into God's promises, we pray that it will greatly encourage you, and impart shalom peace into your situation.
This Is How I Fight My Battles playlist:
1. Not Today by Hillsong United
"Your love stood down fear
Crushed the devil's head
Fear is just a liar
Running out of breath
The fight beneath Your feet
I'm standing on Jesus' Name"
Whatever your battle might be, it has been put under Jesus' feet at the cross! Your victory has been paid for; it has been won. (see Eph. 1:21-23)
2. "Every Little Thing" by Hillsong Young & Free
"Behind the scenes and in the details
You plan the perfect way for me
Why would I dwell upon the road's uncertainties
When all I gotta do is look to You"
Every little thing will be all right, dear one. Every. Little. Thing. God will work it all out for your good (see Rom. 8:28). His plans for you are full of His wondrous promises (see Jer. 29:11)!
3. "Be Still" by Hillsong Worship
"Be still and know
That the Lord is in control
Be still my soul
Stand and watch as giants fall"
When everything fights for your constant attention, it is easy to fall prey to anxious thoughts. Guard your heart (see Prov. 4:23) and silence those fears inside you by knowing that Jesus is still in control, despite what things look like on the outside.
4. "Highlands (Song of Ascent)" by Hillsong United
"No less God within the shadows
No less faithful when the night leads me astray
You're the heaven where my heart is
In the highlands and the heartache all the same"
Dwell for a moment on the fact that there is "no less God within the shadows"… isn't the picture simply beautiful and reassuring (Isa. 54:10)? God is with you on the mountaintops, and beside you in your deepest, darkest valleys—He will walk you through the other side.
5. "What a Beautiful Name w/ Break Every Chain" by Hillsong Worship
"There is power in the name of Jesus
To break every chain
Break every chain
Break every chain"
Declare the mighty name of Jesus over every situation or bad report you've received—those chains of bondages He shall break, and every knee shall bow at the mention of His name (Phil. 2:9-10). Child of God, you hold the key to being set free… it is in the name of Jesus.
6. "Surrounded (Fight My Battles)" by UPPERROOM
"This is how I fight my battles
It may look like I'm surrounded
But I'm surrounded by You"
The Lord has gone before you, and fought for you—you simply fight the battle of laboring to enter into His rest (see Heb. 4:11). How do we remain at rest? By singing praises to Jesus, and basking in His amazing presence!
7. "In Control" by Hillsong Worship
"And though the seas are raging
You will speak and tame them
In You I find my rest
You are in control"
When it feels like all hell has broken loose, when circumstances are stacked against you, and cracks start showing in broken relationships, know that Jesus is still sovereign and in full control. Let Him shine through, and restore to you what the enemy has taken!
8. "P E A C E" by Hillsong Young & Free
"I've found peace far beyond all understanding
Let it flow when my mind's under siege
All anxiety bows in the presence of Jesus the Keeper of Peace
And peace is a promise He keeps"
Peace is a promise that God reminds us of many times in the Bible (see John 14:27). He is: peace to a restless soul; peace when your thoughts wage war; peace to the anxious heart; peace when you feel enclosed; peace when you lose control and peace when your fear takes hold.
9. "Turn Your Eyes Upon Jesus" by Scripture Lullabies
"Turn your eyes upon Jesus
Look full in His wonderful face
And the things of earth will grow strangely dim
In the light of His glorious grace"
Take this moment to selah, which means to pause, in Hebrew. Instead of fixating your gaze on your problems, turn you gaze upwards toward Jesus and find rest.
10. "Seasons" by Hillsong Worship
"I can see the promise
I can see the future
You're the God of seasons
And I'm just in the winter 
If all I know of harvest
Is that it's worth my patience
Then if You're not done working
God I'm not done waiting"
Going through difficult seasons in life are inevitable—that's the world we live in. But because of Jesus, our season will always end in victory! Plant God's word that's like a seed, and watch it grow into a bountiful harvest. Your season will come.
Stream the entire This Is How I Fight My Battles playlist here.
___
Remember, worship is basically worrying in reverse! When you catch yourself worrying, cast your cares towards the Lord and choose to worship instead. As you lean into His presence and come as you are, strongholds shall crumble and enemies shall flee!
Want more? Find out how you can have peace in the storms of life with this book resource. And check out the rest of our playlists on Spotify.
Get our latest content and freebies straight to your inbox!