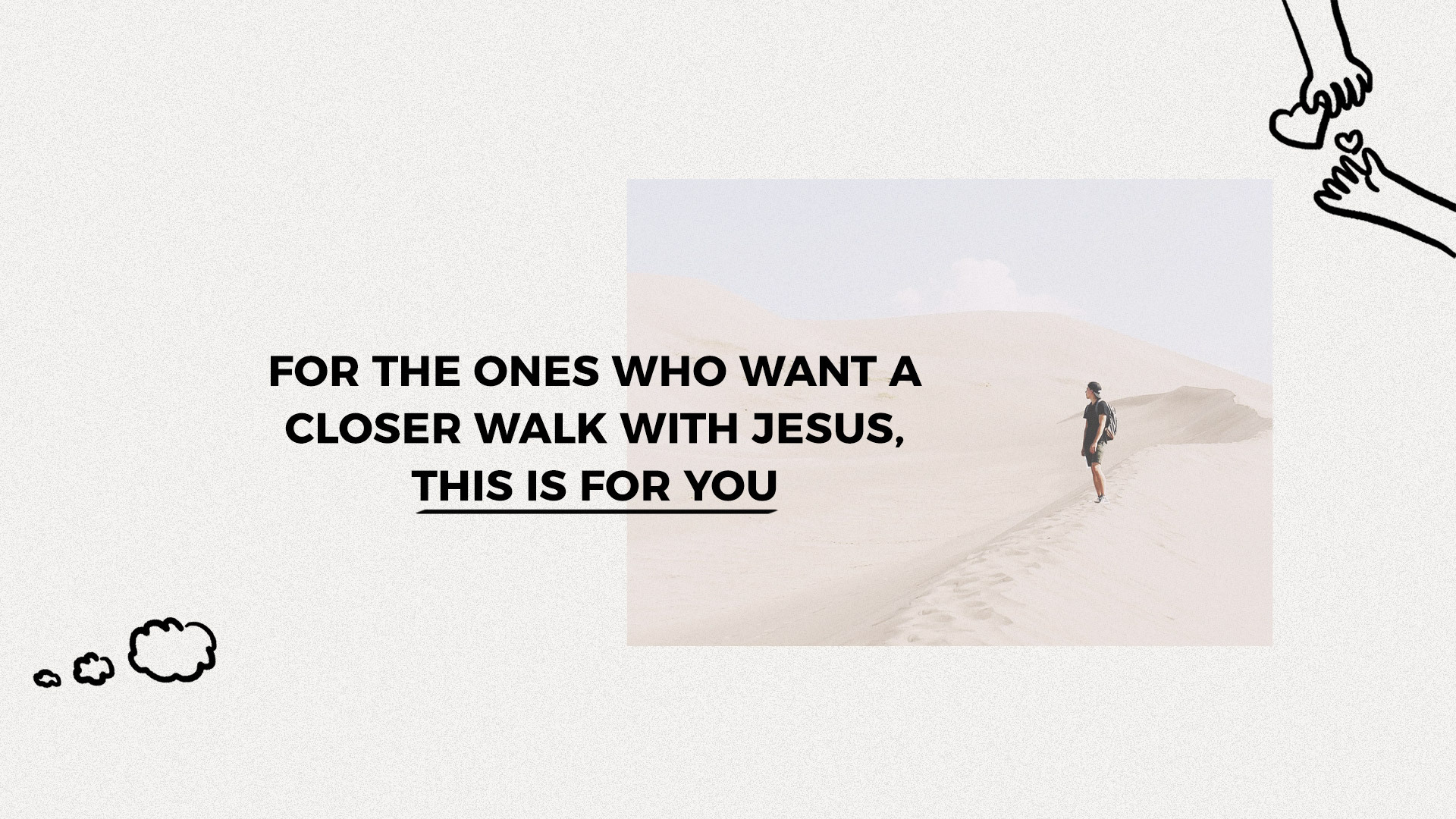 For the ones who want a closer walk with Jesus, this is for you
Do you ever wonder how you can involve Jesus more in your daily life, but you just don't know how? One moment you've invited Jesus to breakfast, and the next it feels like the rest of the day has passed without you having thought once about Him. Perhaps this has even caused you to feel like you've failed as a Christian.
If you can relate to this, here are 5 things you need to know.
1. There is no "perfect standard" to meet in your relationship with Jesus
Good news! Living more conscious of Jesus and walking closer with Him is not meant to be a burden to carry or a task on the Christian to-do list. There's no minimum number of hours to hit or time spent on your knees that'll make you feel closer to Him. Rather, God wants you to naturally enjoy spending time with Him when you experience His grace and love for you. God doesn't even place those expectations that you create for yourself on you. When you know this, it sets you free to enjoy this journey with Him. 🙂
2. It's not about how much you can love Him, but how much He already loves you
A friend of mine really inspired me in the way she seemed to be able to walk with a great consciousness that Jesus was always with her, and conversations with her always left me wanting this close relationship with Jesus for myself. When I felt frustrated that I was unable to "achieve" this, I asked her what her secret was. Her reply was: "When I know that Jesus enjoys spending time with me and wants to be with me, it becomes easy for me to want to be with Him too."
I like how Psalm 139:17–18 (TPT) puts it:
Every single moment you are thinking of me! How precious and wonderful to consider that you cherish me constantly in your every thought! O God, your desires toward me are more than the grains of sand on every shore! When I awake each morning, you're still with me.
Don't you agree that it's easier to respond to someone who reaches out in love, friendship or generosity to you first? Jesus is always thinking about you. Always. It is His joy to be the one who gets to love you more.
3. Jesus is your friend, not fault-finder
Throughout the gospels, we see how Jesus looks at people—through the lens of love. Whether it was a tax collector, a prostitute, a leper whom no one wanted to deal with, Jesus always looked past their deeds and straight into their hearts.
We see this even in the Old Testament. While King David was far from perfect, what we all love about his story is the way he would talk to the Lord about all the things he was going through—the good, bad and ugly. The Lord was very much like a best friend to him, sticking with him through the highs and lows, the victories and mistakes in his life.
4. Every time you fail, He will pick you back up again

We are going to have days where, despite our good intentions, we fail to involve Jesus in our decisions or choices the way we hoped to. Why? Because we're human! And I have found that the surest way to sabotage my relationship with Jesus is to let my failures replay in my mind.
The truth is, even your silliest flaws and failures have already been nailed to the cross. You have been gifted His perfect righteousness and there's nothing you can do that will make you any more or less loved by Him. (See Rom. 5:1 TPT)
What then do you do when you fail? Picture this: See Jesus reaching His hand out to you immediately to pull you up, dust you off, get you back on your feet and continue walking with Him by your side. 🙂
5. Some handles to help you start involving Jesus in your everyday:
Journal/Text Jesus
If keeping a physical journal is too old school for you, why not create one on your phone or even have a messaging chat group with Jesus?  Dropping a text or voice message to a friend is second nature to us, since our phones are in our hands 24/7. Has it ever occurred to you that you can drop a text to Jesus too? It's so enjoyable to get to converse with Jesus the same way you would with a close friend.
You can voice message Him, send Him links, videos, pictures. Anything, really! He's never tired of hearing from you, and even though it may seem somewhat virtual, the truth is that Jesus is always right beside you anyway, and He really loves to hear from you.
Invite Him into the mundane activities
Jesus isn't "stuck" in that hour of quiet time you've scheduled Him into–He's watching that movie with you, drinking that coffee with you, and even running your errands with you!
If you saw something funny or inspiring on the internet, tell Him about it. Did someone say something that got on your nerves? You can rant to Him. If you enjoy taking a walk every evening, why not converse with Him along the way?
When Jesus walked the earth, He wasn't all work and no play. In fact, He enjoyed hanging out with people at dinners—you can totally turn to talk or chill with Him any time.
Pray in the Spirit
Whenever I'm at a loss for words, or simply don't feel like talking to Jesus, praying in the Holy Spirit always helps. True story.
The more I pray, the more open I become to conversing with Him, and the more I feel glad about our friendship—and the cycle repeats itself! It feels exactly like a tiny stream of water turning into a huge waterfall.
It is the Holy Spirit in us who unveils the fullness of God's personal love for us when the limits of human comprehension fail to do so. (See Rom. 18:24 TPT) 🙂
So, what does walking closer with Jesus every day look like? In essence, it's simply knowing how much Jesus already thinks of you and wants to be close to you!
Some friendships don't last for long,

but there is one loving friend who is joined to your heart,

closer than any other!

– Prov. 18:24 (TPT)
Jesus really loves being your friend. My prayer is that you'll enjoy this friendship you have with Him in full measure and see more and more of His heart through the journey. 🙂
Get our latest content and freebies straight to your inbox!