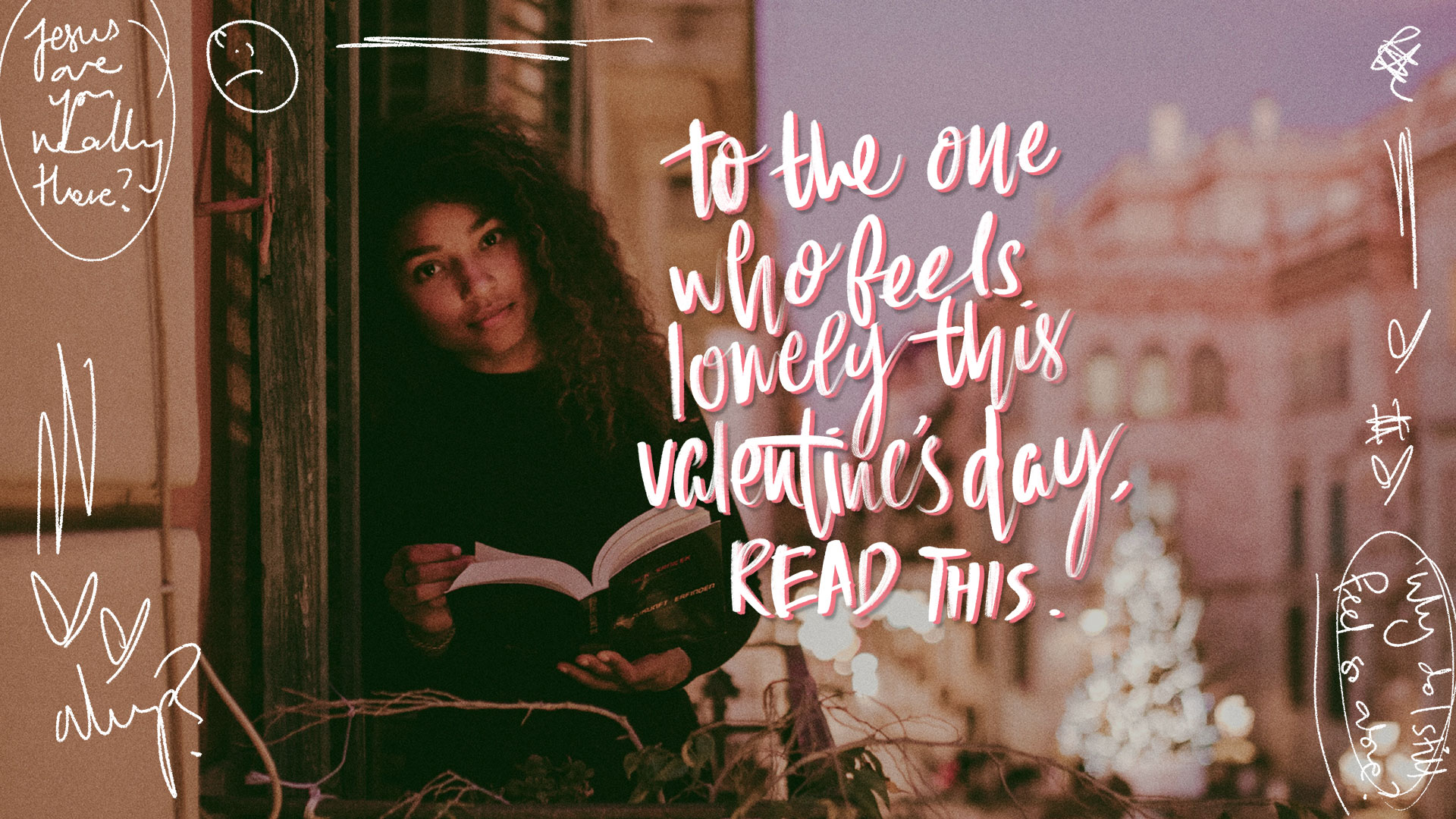 To the one who feels lonely this Valentine's Day, read this.
A Letter from My Former Self
"
February 14, 2015
Dear Jesus,
So, it's Valentine's Day, again. And while scrolling through the monster that is Instagram, I found myself bombarded by thoughts of missed opportunities and past failures (especially in the realm of relationships) that left me torn over whether I ought to be singing about my blessed singlehood, or moping over my obvious lack of a valentine (again) this year.
If I could be honest, God—No offence, but I wish I was writing this to an actual guy (a real physical boyfriend), instead of You. But then again, I'm also reminded that this is our 22nd Valentine's Day together—how did You even manage to stick around for so long?! Heaven only knows.
In our time together…
You've seen how fickle I can be in my affections—on fire for the things of You in one moment, and losing all fervor in the next when things don't go the way I want them to.
You've seen me fall head over heels over the wrong boys and nosedive straight into rejection. 
Despite Your warning signs, You've seen me chase after love that wasn't meant to be, then watched as I ever so slowly (and more often than not—reluctantly)… trailed back to You with my heart broken in all sorts of places.
Woah, I can be such a mess, huh?
If I were You, I would have upped and abandoned this relationship a long time (or at least, several heartbreaks) ago. 
But I'm so glad that You're not like me. Thank You for staying even when my wandering heart wondered and wandered in pursuit of every other affection except Yours. Thank You for still loving me even when I had nothing to offer in return. There I was, with the meagre scraps of me, begging for others to "Please like me", when You already loved me with no conditions.
I must confess that waiting isn't the easiest thing to do especially when it seems like who I'm waiting for might not be on the way after all—you know, what if there isn't a man out there for me? What if I'm the unfortunate recipient of the gift of celibacy? What if there's just something innately wrong with me and no one would ever fancy being with me? What if I'm too quirky and weird and no one would ever understand or find me attractive?
Yet… On this Valentine's Day, I'll choose to believe that even in this season of waiting, You are building me up as an individual and establishing me as Your beloved child. Keep my eyes fixed on you before everything else. Let the sweetness of a life and a relationship with You precede everything else. Let Your love be enough even before anyone else loves me. 
No matter who loves me next, I know that You loved me first; You have and will always be the One who loves me the most. Even before I put on my best for anyone else, You have already loved me at my worst. And I'd be a fool to think that anyone will ever love me as much as You do.
Love,
J"
The thing about journaling is that four years later, when I look back at what I wrote, I realize that things are both different, but in some ways, still the same. I'm now in a relationship with the man whom I guess likes quirky and a little bit of weird of my dreams, but my need for God's love hasn't waned one bit. In fact, I dare say I need it more these days, to have love for not just one, but two.
I know it's hard to believe that God's love is all you need, especially on the days when the loneliness is more palpable than the warmth of His love. And I'll let you in on a secret: that feeling doesn't necessarily go away even when you're in a relationship (gasp) because the truth is, true love and satisfaction can only come from Love Himself, Jesus Christ (1 John 4:16)—regardless of your relationship status.
The unquenchable love that you're looking for can only be found in Him—the One who made all the delicate, inner parts of you and knit you together in your mother's womb (Ps. 139:13-14 NLT). The One who made you and chose you for love, and to be loved most perfectly by Him.
Don't get me wrong, I'm not asking you to remain single for the rest of your life. But if you're still waiting to see breakthrough in the area of relationships, know that your answer starts not in looking for a life partner, but in being satisfied by the love of the Lord. Psalm 37:4 (TPT) says, "Make God the utmost delight and pleasure of your life, and He will provide for you what you desire the most."
God isn't oblivious to the desires of your heart and He delights in doing good to you (Jer. 32:41 MSG) and in giving you good gifts (Matt. 7:11)—whether it's to have a glorious relationship or to have kingdom friends to walk this journey of life with!
So, if it's been some time since you've spoken to the Lover of your soul, would you take this chance to pen down your thoughts to Him? As you allow Him to lavish His love on you, you'll find the true satisfaction that comes when your heart is satiated by the love of its Maker.
Get our latest content and freebies straight to your inbox!