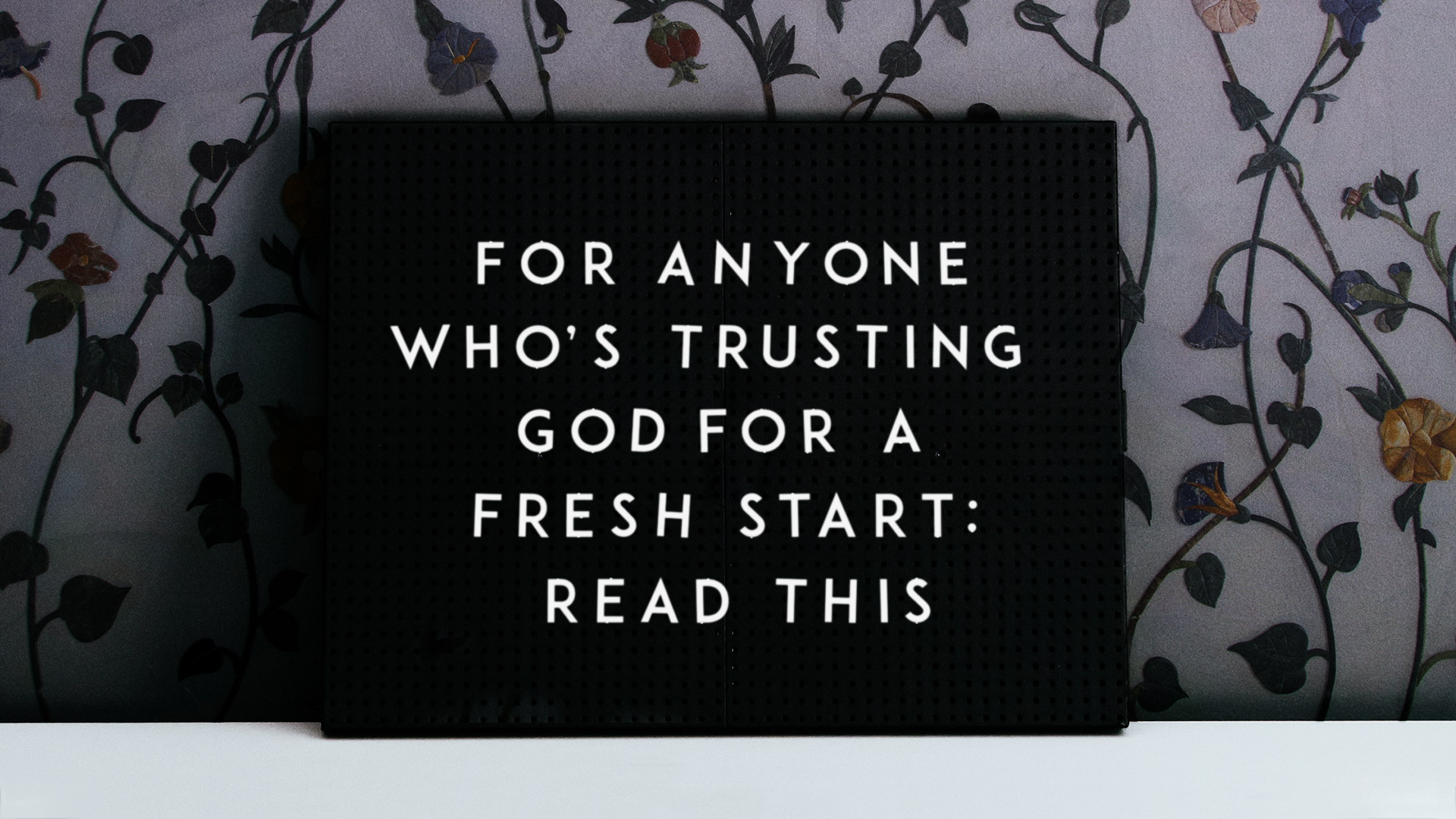 For anyone who's trusting God for a fresh start: read this.
So it's the New Year—the season of starting afresh, of new beginnings and clean slates. Unfortunately, the mere thought of starting over can feel like a demand and send some of us (e.g. me) into mild anxiety. That's why we've put together this article that shows you why you don't have to sweat it when the new year rolls around. And truth is, we can have a fresh start at any point in time, with the Lord.
Here goes:
1. First things first: Don't despair if you're not over the struggles of last year
Are you still struggling with certain weaknesses, letting go of someone, or even a vice that you feel you should've been free of by now?
My friend, you can live according to the timeline of God's grace, not your self-imposed ones. The Lord isn't beating you up for your failings, so please don't either. But neither is He being indulgent of sin, though. He's inviting you to receive His gift of forgiveness and grace, that'll help you triumph over every weakness and failure. Trust the process of His grace. The Bible says that we are more than conquerors through Him who loved us, not just "through Him" (see Rom. 8:37).
That means that the key to conquering those challenges this year is by receiving even more of the Lord's love for you.
2. New Year's are special, but it's not on you to make the year awesome
Perhaps like me, the new year fills you with a fair amount of anxiety because you feel the pressure to start again, make it good this time, etc. Personally, I used to try to ease my fears by telling myself, "It's just another set of 365 days. Nothing special." No expectations, no disappointment, right? But the truth's that the division of years is God's idea (see Gen. 1:14). He knows we need these markers of time. New years are special. But the pressure's not on you to make the year awesome by your own efforts.
Jesus Himself said, "I am the Vine, you are the branches. Without Me, you can do nothing." How liberated would we be if we really believed this verse in our heart of hearts? Best of all, the Lord is not a hard slave driver. He says, "My yoke is easy and My burden is light." Ask Him, "What do You have in store for me this year, Lord?" and just allow Him to guide you along paths that will drip with His abundance (Ps. 65:11).
3. Don't like your life? Change what you're seeing in your heart
This year, don't let your past, history or experience define how you see yourself. They are facts (which can be painfully real, I know), but God's Word is truth. Let passages like Psalm 112, which describes you as a blessed man/woman in Christ whose "heart is steadfast, trusting in the Lord", and verses like Romans 8:11, which says that the very resurrection life that raised Jesus from the dead lives in you, start recreating your world.
When you have such images in your heart that are painted by God's infallible Word, it's only a matter of time before you start living the glorious life He died to give you. Remember that long before our Father Abraham even had one child, God first gave him a picture of how his descendants would be as numerous as the stars in the night skies. Today, that vision has come to pass and continues to: All of us who're believers are considered his descendants (see Gal. 3:29).
No matter how helpless you may feel regarding changing your outward circumstances, there is one thing you have full control over: And that's the movie reel playing in your heart. This year, let God's Word repaint your world.
4. Make space for God in your routine
John C. Maxwell once said, "You'll never change your life until you change something you do daily. The secret of your success is found in your daily routine." This year, why not try starting and ending each day with God's Word (you can simply mutter a verse under your breath that speaks to you, listen to a sermon for 5 minutes, etc.)? You can also thank God for something and ask Him for something before you go to sleep every night.
Before our Lord Jesus miraculously multiplied a little boy's lunch to feed the 5,000, He gave thanks for the five loaves and two fish too. Great miracles are always preceded by thanksgiving, my friend…it's a great idea to make it your way of life.
Best of all, these four tips don't have an expiration date in January—you can start on them any time of year, any time you want a fresh start. So here's to your best year yet, pals…with the Lord guiding you every step of the way. 🙂
Get our latest content and freebies straight to your inbox!